Keynote: How We Got Here, A Brief History of Open Source
We all have a journey, a journey that shapes who and what we are. Ideals, hopes, dreams, and a constant stream of decisions helps make us who we are. The same is true of the idea of Open Source. The journey and story of Open Source has shaped the software landscape in the present and will continue to shape the direction of software into the future. As developers we should know this tale, this history, the important chapters that helped found the ideals of Open Source, and understand why PHP is one of the last truly Open Source projects still around.
---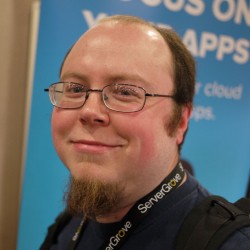 Chris Tankersley is a husband, father, author, speaker, PHP developer, podcast host, and probably lots of other things he's forgetting to mention. He works for InQuest, a network security company out of Washington, DC, but lives in Northwest Ohio where it is much colder sometimes. Chris has worked with many different frameworks and languages throughout his twelve years of programming, but spends most of his day working in PHP, with a sprinkling of Python thrown in for good measure. He is the author of "Docker for Developers," and works with companies and developers for integrating containers into their workflows.